It's October, which means it's officially pumpkin season. So why not get in the spirit of the season with a Butternut Squash Pumpkin Pie? Well, that's exactly what we are doing here. This pie is  gluten, dairy and grain free made with a low carb crust and half the sugar than traditional recipes, which will make your baking a fun and healthy adventure.
I'll be honest, as much as I love fall and the cozy seasonal food it presents, one of the popular food groups that I'm not so crazy about is pumpkin …unless I cook or bake it myself with a recipe I have created. This butternut squash pumpkin pie definitely made my tastebuds scream for joy. It combines two similar yet uniquely different fall squashes to make one fabulous pie. 
I know it may sound odd, but I've always found myself trying so hard to enjoy pumpkin treats because all my friends got super excited whenever pumpkin season came around. From Pumpkin pies, cookies, breads and even soup, they loved it all, and I tried to love it just as much. It's almost as if we have two Santas; a Fall Santa and a Christmas Santa, one who brings you pumpkin in October and Christmas presents in December.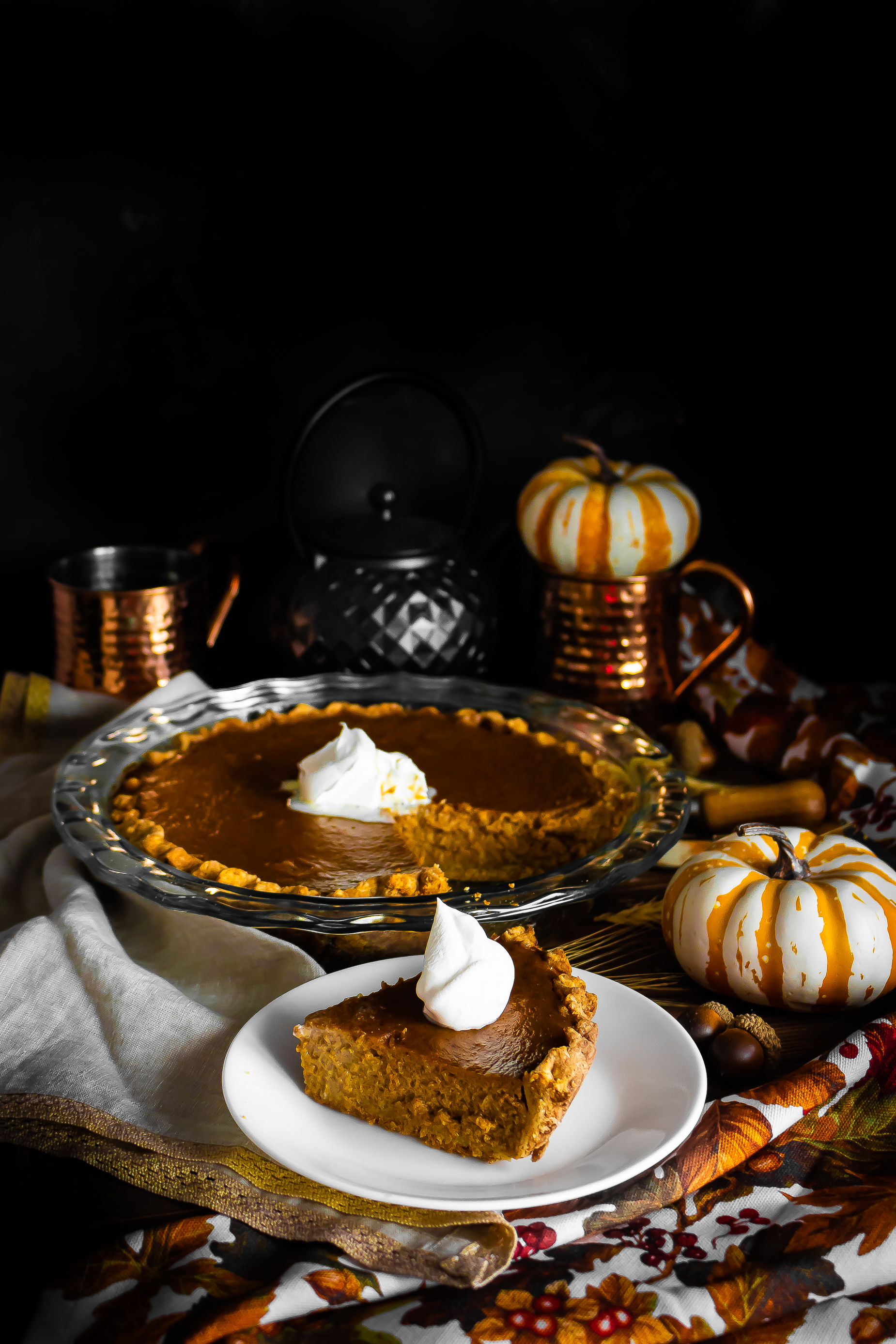 After some pumpkin soul searching and cooking experiments, I realized that the reason I had a hard time really loving pumpkin infused recipes boils down to one simple factor…overpowering spices. Pumpkin on its own is quite bland, so you do need a variety of warming spices like cinnamon, nutmeg, ginger  or cardamom to enhance the natural pumpkin flavour and also provide a nice kick. However, when these spices are used in larger quantities, especially the addition of pumpkin spice mix or even black pepper, I find that it overpowers the pumpkin dish or treat, which leaves my taste buds overwhelmed and sometimes with an aftertaste. This is my personal experience however, because there are others who love pumpkin recipes that are quite spicy, with some who even add additional spices as a personal preference. 
This butternut squash pumpkin pie contains all the spices you know and love, but in moderate amounts that provide a mild kick without taking away from all the other wonderful ingredients that contribute to making this pie an overall delicious success.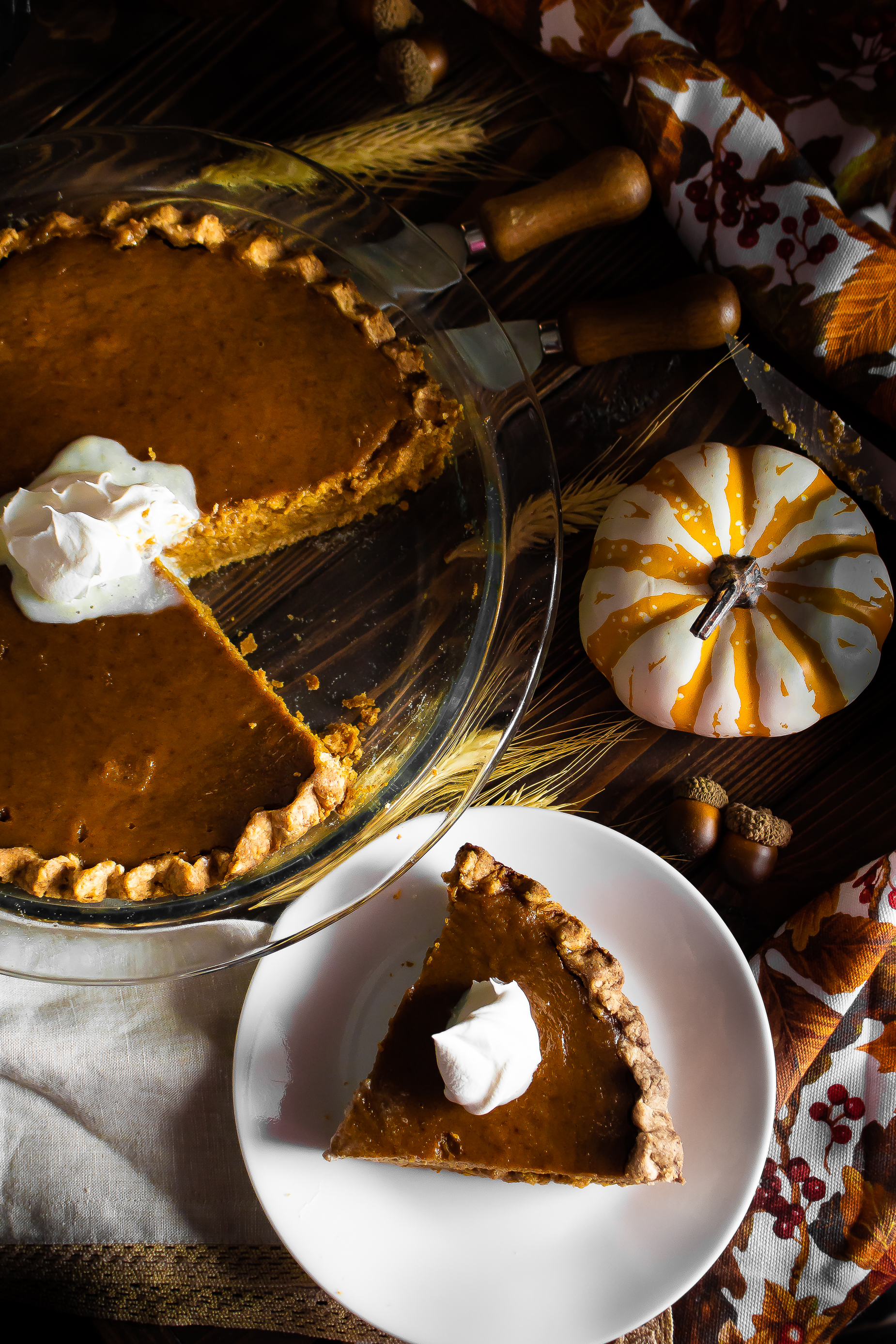 BUTTERNUT SQUASH PUMPKIN PIE
Author: Valerie Azinge
Serves: 10 Servings
Ingredients
1 grain free pie crust, not baked
2 large eggs plus 1 egg yolk
⅓ cup monk fruit sweetener
½ teaspoon kosher salt
1 teaspoon vanilla bean paste
2 teaspoons ground cinnamon
1 teaspoon ground ginger
¼ teaspoon ground nutmeg
¼ teaspoon ground cloves
⅛ teaspoon ground cardamom (optional)
1 cup pumpkin puree
*1 cup butternut squash puree (see cooking instructions on link notes or refer to notes below)
1 ½ cup full fat organic coconut milk
Instructions
Preheat oven to 425°F. Press pie dough into a greased 9 inch pie dish. Alternatively, you can lightly roll the pie dough in between two sheets of parchment paper, then gently remove the top of the parchment paper and flip the dough into the pie dish and peel off the second parchment paper. Once the dough is pressed into the dish and the edges are covered, return the crust in the pie dish back to the fridge.
In a large bowl, whisk eggs and egg yolk. Add in monk fruit, brown sugar, salt, vanilla paste, cinnamon, ginger, nutmeg, cloves and cardamom and whisk until smooth. Finally add in pumpkin, butternut squash and coconut milk and whisk again.
Return the pie crust back to the counter and pour your mixture into the pie shell. Bake for 15 minutes, then reduce the temperature to 350°F and bake for 50-55 minutes or until a toothpick inserted comes out clean even though it may be a little wet. Basically, the filling shouldn't be loose or watery.
Cool the pie on the counter or cooling rack for 15-20 minutes. Serve.
Notes
To save time, you can purchase frozen prepared butternut squash cubes. Heat them up in the microwave on high (1 ½ cups + 2 tablespoons water) for 5 minutes. Puree in a food processor or blender until smooth.