Sweet, tart, and easier than pie, this Kiwi Honey Galette is a yummy brunch treat to enjoy any day of the week!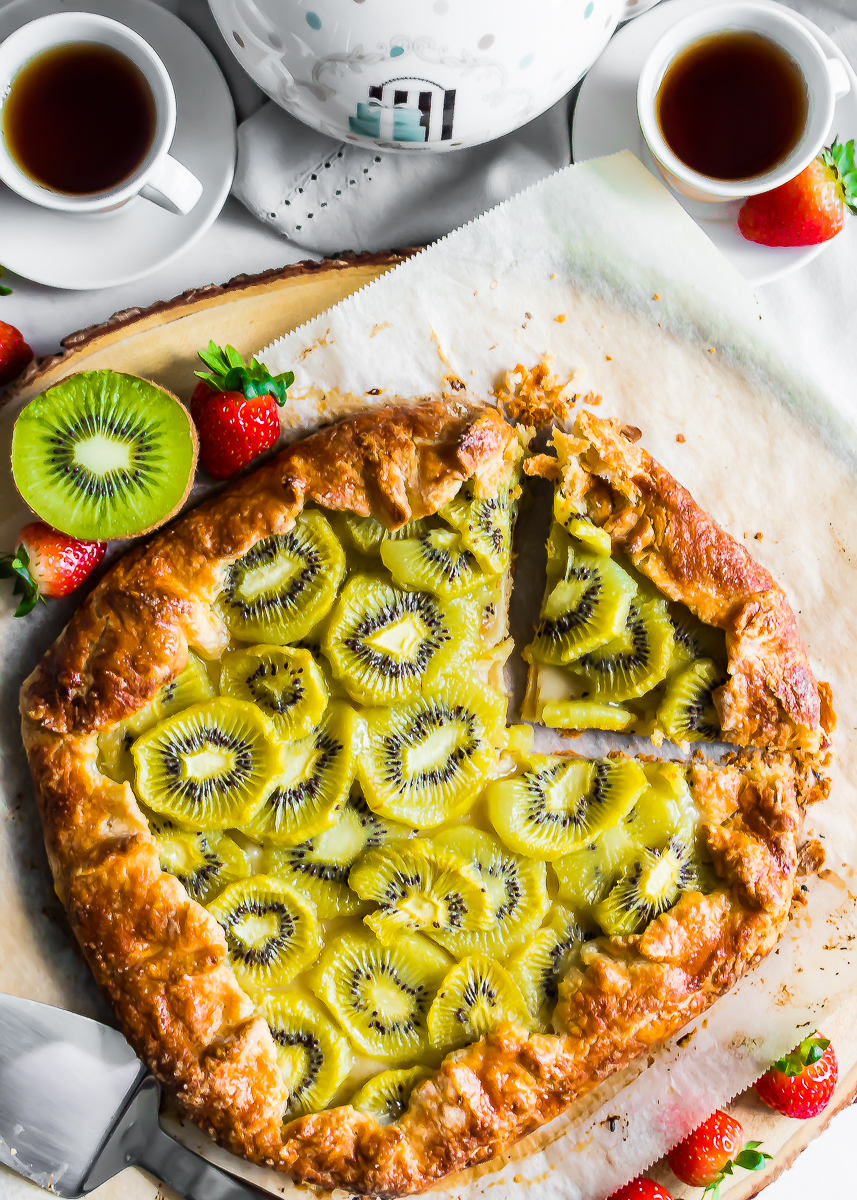 It's Friday at last and that makes me happy for two reasons. First, War for the Planet of the Apes comes out today and I get to see it, and secondly, I get to prepare for my pop up market which is happening on Sunday! It's a yoga fundraiser for Sick Kids sponsored by Yogapalooza and I'm so excited that my company gets to participate. For my lovely readers who are in the Toronto /Mississauga area, I will be posting the link with the event details below. We will be selling some of our healthy sweet treats and I couldn't be more excited! Oopps I think I've said" excited" way too many times already…. anyways moving on to this kiwi honey galette.
One of the reasons I enjoy baking galettes is how easy it is to put together compared to pies. I mean don't me me wrong, pies aren't that difficult once you get the hang of it, but galettes are basically a lazy guide to making a fancy pie. Plus, you could also get creative with the fruit fillings, or even go savory by using tomatoes, zucchinis or any meat protein of your choosing!
You could also make this entire galette vegan is you'd prefer. All you would have to do is substitute the butter with coconut oil sitting at room temperature, honey for agave nectar and viola! Personally, I have made pie crusts and galettes with coconut oil and although the crust comes out decent, you don't quite get the flakiness you would get when you make the crust with butter. However, the galette still turns out pretty good, so do not be discouraged! It's all about personal preference.
Well, since I've been running errands all day and still have a few more to run, I'll have to keep this short and sweet, but mostly sweet because hey, kiwi honey galette!?! I hope you guys have a lovely weekend and enjoy the sunshine!
Here's the link with the Yogapalooza pop up event details:
Yogapalooza, a Fundraiser for Sick Kids.
My Digital Kitchen – Yogapalooza.

KIWI HONEY GALETTE
Sweet, tart, and easier than pie, this Kiwi Honey Galette is a yummy brunch treat to enjoy any day of the week!
Author: Valerie Azinge
Recipe type: Brunch
Cuisine: French
Serves: 6 servings
Ingredients
• For Crust:
• 1 /14 cups chilled spelt flour
• ¼ teaspoon sea salt
• 1 stick cold unsalted butter, cut into cubes
• ¼ cup plain fat free Greek yogurt
• 2 teaspoons fresh lime juice
• ¼ cup ice water
• For Filling:
• 2 cups sliced kiwis
• 2 tablespoons pure honey, melted
• 1 egg (for egg wash)
Instructions
For the crust, add flour and salt to a large bowl and mix. Cut in butter into the bowl and combine with a pastry blender until a coarse meal forms. In another small bowl, whisk together Greek yogurt, lime juice and ice water and add to the flour mixture. Using your fingers, mix in the wet ingredients until large lumps form before patting it into a ball. Cover the dough with plastic wrap and refrigerate for 1 hour.
In a separate bowl, toss kiwi and melted honey together.
Preheat oven to 400°F and line a baking sheet with parchment paper.
On a floured countertop, roll out the dough into a 12-14-inch round. Transfer the dough to the baking sheet.
Arrange the kiwis over the dough, leaving a 2-inch gap around the borders of the dough. Fold the borders over the fruit filling pleating the edges to hold the filling together. Brush the dough with the egg wash and transfer baking sheet to the oven.
Bake for about 45 minutes or until the crust is golden brown. Let it cool for 3-5 minutes before serving.